Designer Phil Spark's comment:

"This platypus was made by Tim Johnman who specialises in animal sculpture. Darwin saw the Platypus whilst walking by a creek near Wallerowang and the station manager, Mr Browne, shot one so he could
take a closer look.."
CHARLES DARWIN VISITS WALLEROWANG HOMESTEAD
The naturalist Charles Darwin arrived in Sydney on HMAS Beagle on 12 January 1836, homesick and jaded from a long voyage. He hired a horse and a man and rode from Sydney to Bathurst, stopping at Wentworth Falls and Govett's Leap, where he marvelled at the scale of the Grose Valley.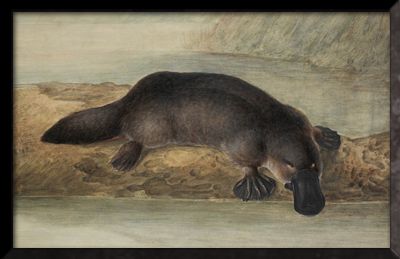 J.W. Lewin, 1810, Platypus,

Darwin was carrying a letter of introduction from James Walker, the owner of 'Wallerowang', so on 19 January overnighted there, where Andrew Brown was overseer. Darwin found 'Walerawang' comfortless—"not even a single woman resided here"— but profitably grazed. He was disappointed that a kangaroo hunt with Thomas Archer was a failure, and mused, in fairly racist terms, upon the dispossession of Aboriginal people. But Darwin's pessimism soon lifted, as he wrote in his diary:
In the dusk of the evening I took a stroll along a chain of pools (which in this country represents the course of a river) & had the good fortune to see several of the famous Platypus or Ornithorhynchus paradoxicus. They were diving & playing in the water; but very little of their bodies were visible, so they only appeared like so many water Rats. Mr Browne shot one; certainly it is a most extraordinary animal.
Anne Moyal says this event was 'like a pebble cast into a quiet pool': the platypus became a key exemplar of natural selection, and an enduring presence in his writing. This interlude led Darwin to some important realisations:
Earlier in the evening I had been lying on a sunny bank & reflecting on the strange character of the Animals of the country as compared to the rest of the World. A Disbeliever in everything beyond his own reason, might exclaim, "Surely two distinct creators must have been at work".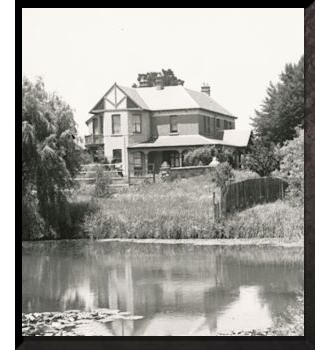 Barton Park

As he lay on the riverbank he watched an ant-lion in its tunnel, shooting jets of sand at its prey just like the Old World ant lion, of a different species, did.
"What would the Disbeliever say to this? Would any two workmen ever hit on so beautiful, so simple and yet so artificial a contrivance? It cannot be thought so the one Hand has surely worked over the whole world"
While Darwin's visit was a remarkable moment, Wallerowang' had a long and interesting history. After Walker's death in 1856 the property became 'Barton Park' but was known as 'Wallerowang House' until Walker's grandchildren James Lyon Walker Barton and Lue Loveday Barton, then in middle age, were murdered there in 1948. The Bartons had already discussed selling the property to the Joint Coal Board, and their surviving sister completed the sale in 1950. In the 1970s 'Wallerowang' disappeared under the waters of Lake Wallace, created for Wallerawang Power Station.
A monument to Charles Darwin sits on the shores of Lake Wallace, but nothing remains of the house. Eskbank House holds an 1840s Broadwood square piano and a bed from the 'Wallerowang' while the Lithgow Pottery Pavilion was crafted from sandstone acquired from the old barn.
SOURCES
Anne Moyal, Platypus: The extraordinary story of how a curious creature baffled the world, Sydney: Allen & Unwin, 2000.
State Library of New South Wales, Charles Darwin Down Under 1836, Exhibition, 2009
Charles Robert Darwin, "Journey Across the Blue Mountains to Bathurst in January, 1836" in George Mackaness (ed), Fourteen Journeys Over The Blue Mountains of New South Wales 1813-1841, Sydney: Horwitze-Grahame, 1965