Designer Phil Spark's comment:

"Sun light is converted into plants. Plants die, get compressed and converted into coal. Simple."
COAL MINED COMMERCIALLY IN LITHGOW
Lithgow lies in the centre of the Western Coalfield, which stretches from Katoomba, through Hartley, Lithgow, Cullen Bullen and Kandos to Ulan near Mudgee, covering a distance of approximately 240 kilometres. It comprises four seams: Katoomba, Wallerawang, Lidsdale and Lithgow. The Lithgow coal seam is the most significant and is suited to steam production and coking.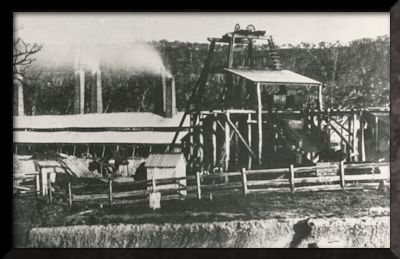 Brown's Eskbank Colliery

The presence of coal in Lithgow was identified by Reverend William Branwhite Clarke in 1841, when he noticed Glossopteris fossils in Hartley. Mining had already begun informally on Andrew Brown's 'Cooerwull Estate' when Thomas Brown was the lessee there. By the 1850s, Cooerwull's woollen mill was powered by steam from coal.
It was the Great Western Railway, opened in 1866, after lobbying by Thomas Brown of Eskbank and James Walker of Wallerowang, that enabled the production and sale of coal from Lithgow. The first colliery to open was Hermitage Estate, in 1868, followed by Brown's Eskbank Colliery in 1869. Collieries then appeared in nearly every corner of the Valley; Lithgow Valley Coal at Littleton, Vale of Clwydd, Oakey Park, Zig Zag, the Steelworks, the Ironworks and in Mort's Gully, which became the State Mine in 1919.
While entrepreneurs and land-owners grew rich from the cartels they used to set prices and wages, living conditions in the Valley were hard for the workers and their families. Workers were paid on a contract system, which meant they worked in teams that were paid by weight of coal they produced. This demanded long hours and was a bone of contention from the late 1870s until a bitter general strike settled the matter in 1899. Men received no leave, workers' compensation or safety provisions—they had to cut timber for shaft supports in their own time—and wash at home. Accidents, pit fires and floods caused injury and death to men and pit ponies.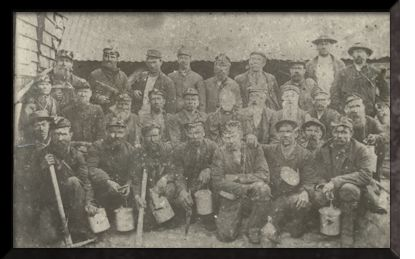 Miners c 1885

Housing in the valley at this time was abominable: land was entirely owned by the mines and private landowners like Thomas Brown and although Lithgow Valley Colliery developed a sub-division, the conditions of ownership were restrictive and most workers and their families lived in a shanty town of corrugated iron and timber they called 'Tin Pot Row'. Around the Vale of Clwydd Colliery, miners and their families lived in 'huts of mud or wood, manifesting an Arab-like independence, and some apparently prefer to live in tents.'(The Railway Guide 1879). The women did the work of drawing water for their men to wash, making homes in dire conditions, raising children and nursing broken bodies.
However, many of these people came from Britain's Black Country, so brought their knowledge and their culture to bear on the town. Part of that culture was unionisation, and a desire for free trade, and just as Lithgow was the cradle of industry for NSW, so it was the cradle for the labour movement. It is no accident that this place produced so many of the great labour organisers, writers and orators of the late 19th century, and was so entwined with the first Labor government of New South Wales, and the career of two future premiers and two future prime ministers.
After the 1930s, coal mining in the Valley contracted and the last of the collieries, Hermitage, closed in 1986. The workings of the Western Coalfields are now moving away towards Mudgee, but coal-mining and the power industry remain important employers.
SOURCES
State Mine Heritage Park and Railway
Jim Brown, Bent Backs: An illustrated social and technological history of the Western Coalfields, 1989, 1993
Ray Christison, A Light in the Vale: Development of the Lithgow District Miner's Mutual Protective Association 1875-1900, 2011
Bob McKillop, Furnace, Fire and Forge: Lithgow Iron and Steel Industry 1874-1932, 2006
Home | About | Chronological List | Contact Email