Designer Phil Spark's comment:

It's difficult to find out much about Sir Joseph Cook the man. Like many men of the time he had a fine beard.
This was made by Sue Coombes, a jeweller from Hazelbrook.
JOSEPH COOK BECOMES PRIME MINISTER OF AUSTRALIA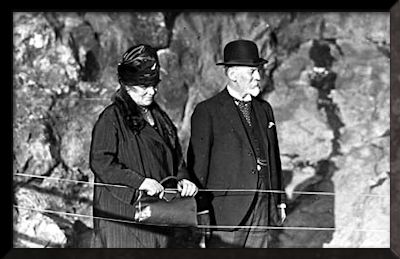 Sir Joseph and Dame Mary Cook

The political career of Joseph Cook is mystifying to many in Lithgow and beyond. A man who literally grew up in a colliery pit and gained his political start from trade unionism and the beginnings of the Labor Party became, in 1913, the first Liberal Prime Minister of Australia.
Cook's membership of the Labor Party had not lasted much beyond his election to Parliament - once in Federal Parliament he became a vocal critic of the Party, saying its pledge and policies were sectional and socialist, while his own were liberal and in the national interest. Throughout long struggles over free trade and protectionism, Cook always ended up on the opposition benches, where he proved to be incisive and combative in debate, irascible and humourless.
In 1908 a new protective tariff was introduced and the free traders found themselves having to unite with the protectionists in the parliament to keep Labor forces at bay. The 'fusion' ministry, headed by Deakin, gave Cook the chance to be a part of government, and he became deputy prime minister and minister for defence, a role in which he excelled. In that role he secured Lithgow as the base for the Small Arms Factory. However Labor won the 1910 election in a landslide_—the electorate judged the political opportunism of fusion harshly—and the conservatives were obliged to form a new party, which they called the Liberal Party. Cook became leader and his biographer, Frank Crowley, wrote:
…at the age of 52, the former Labor leader and free trader had become the national leader of a political party which since the fusion had become both protectionist and conservative. In his public manner, his speech and his social activities there was no longer any trace of his working-class origins.
Faith and family remained constant elements in Cook's life, but his political views would continue to shift. On 20 January 1913 Cook became leader of the Liberal Party and on 24 June 1913 was sworn in as Prime Minister, serving until 19 September 1914. One of his last acts in office was declaring support for the British in World War One, and finances for the creation of the Australian Imperial Forces.
In May 1917 Cook split with the Liberals, becoming Deputy Prime Minister in the Nationalist coalition formed by Billy Hughes, the pro-conscriptionist Labor defector. Cook attended the International Peace Conference in Versailles with Hughes, was made Knight Grand Cross of the Order of St Michael and St George (GCMG) and, with Mary, made a triumphal return to Staffordshire. Sir Joseph Cook resigned from Parliament in 1921 to become High Commissioner to London, a role that suited the monarchist views he had acquired in mid-life.
Cook's marriage to Mary was an enduring feature of his life. As her nine children grew up she became more involved in her husband's public activities and was an accomplished organiser for the Australian Red Cross. She became a Dame in her own right in 1925. The affection between Joseph and Mary can be seen in photos of the couple—sometimes Cook, always understood to be humourless, smiles broadly. He had come a long way from a Staffordshire pit and the Vale of Clwydd.
Bob McKillop, Furnace, Fire and Forge: Lithgow's Iron and Steel Industry 1874-1932, 2006
Greg Patmore, Robert Pillans: The first Labor Mayor of Lithgow, The Hummer, 2009
Donald Geoffrey Hoskins, The Ironmaster; The Life of Charles Hoskins 1851-1926, 1995
Sir Cecil Hoskins, The Hoskins Saga, 1968
Tony Griffiths, The Small Arms Factory and Its People, Vol. 1, 2006