Designer Phil Spark's comment:

The scroll is a major  device in decorative blacksmithing and the perfect one is an obsession  and I almost got it with this. The post is also curved to go with the scroll. No relevance to the date that I can think of.
STEEL WORKS OWNER GEORGE HOSKINS BUYS LAND AT PORT KEMBLA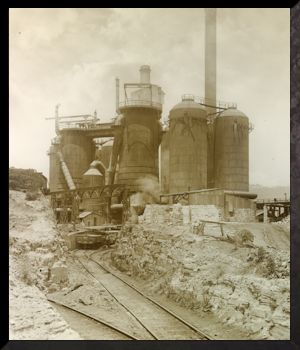 The Blast Furnace standing proud
at the end of World War I.

The enormous demands of steel and iron production for World War I had strained the Lithgow ironworks to breaking point, and Charles Hoskins had already bought a coal mine, at Wongawilli on the South Coast, because it was high quality coking coal. Although the early 1920s saw a boom in iron and steel orders, the move south proved decisive.
According to Cecil Hoskins:
Charles Hoskins was a far seeing man and, after the first decade of the G. & C. Hoskins Limited operation of the Lithgow Iron and Steelworks, he became convinced that in his foreseeable future it would be necessary to relocate the Works if they were to supply the Commonwealth and not only the state of New South Wales. Rail freight charges were increasing, first-class coking coal was lacking in the west, and it cost a great deal to freight south coast coke to Lithgow. Iron ore was also lacking in New South Wales. Port Kembla appealed because it was the nearest deep sea port to Sydney, just 56 miles, compared to Lithgow's 98, and close to the Moss Vale rail line Hoskins was negotiating with the government.
Hoskins made an offer on land belonging to W.C. Wentworth, who was a descendant of William Charles Wentworth who crossed the Blue Mountains in 1813. In 1924 Charles and Cecil Hoskins and their wives travelled to Port Kembla to meet with W.C. Wentworth, and finalise the purchase: 'The four of us had a picnic in the virgin bush beside the creek where the merchant mills now stand.' It was a symbolic, sylvan end to Charles Hoskins' involvement with the iron industry. He passed his business on to his surviving sons Cecil and Sid Hoskins, and went for a holiday overseas with his wife Emily. Shortly after he returned, in February 1926, he died. Cecil said 'it was not meant that he should see the fulfilment of his plans for Port Kembla, but it is safe to say that he died content in the assurance that they would be consummated.'
Later in 1924 Hoskins Iron & Steel Co. Limited conducted a share issue and raised funds to build a blast furnace at Port Kembla. It amalgamated with the engineering and fabricating business of Dorman Long & Co in Sydney, a rolling mill from Baldwins Limited of England and the shipping agents Howard Smith Limited, and held another share issue that raised £5 million. The stage was set for the removal of the Blast Furnace.
SOURCES
Sir Cecil Hoskins, The Hoskins Saga, 1968
Bob McKillop, Furnace, Fire and Forge, 2006.