Designer Phil Spark's comment:

"This is by Anthony Fitzgerald from Mt Victoria. A classic post finial (top bit)."
LITHGOW PUBLIC SCHOOL OPENS
Don't think they were all happy days.
Lithgow Infants School

These words are the closing remarks of the Centenary booklet produced by the Lithgow Public School in 1975 and are undoubtedly informed by experience. However the opening of the public school was an achievement for Lithgow. It made the town a better place for the children of miners, ironworkers and shopkeepers and provided a sense of permanence to the town. A school was a mark of civilisation and progress, and a sign of a confident future and, as schools do, quickly became an important part of life in the town.
In other towns schooling was provided by the churches, in denominational schools. However, in Lithgow, as with everything else, the impetus to start a school came from a businessman. And, as with everything else in that part of town, Thomas Brown, then MLA for Hartley and owner of Eskbank House, had rather a lot to do with it. He gave the land for the first building and set up the founding committee, and so was the person who laid the foundation stone for the first building, on 20 August 1878—the commemorative silver trowel he used on the day is in the Collection of Eskbank House. As Brown was still trying to change the name of the entire valley to Eskbank, that was the name the school started with. The name was changed to Lithgow Public School in 1895.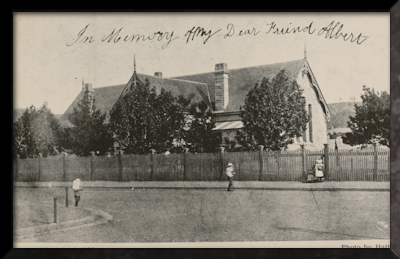 Lithgow Public School

When the Public Instruction Act 1880 passed into law, Eskbank School, which taught both primary and secondary students, became a Superior Public School. That Act also made schooling compulsory, for at least 70 days in the half year, for all children aged six to 14.
Just as miners moved to Lithgow for work, so did teachers. Eskbank Public School was also a proving ground for a great feminist teacher and labour activist, Belle Golding. She arrived at the school in 1879 as assistant teacher and later, with her sisters Annie Golding and Kate Dwyer, was involved in the Womanhood Suffrage League, the Labor Party and the Teachers' Association.
From 1909 the school was enlarged and enhanced and the original Gothic-style school building was replaced. The most recent buildings, along Mort Street, date from the late 1920s. As an aside, the School became an Emergency Hospital throughout the crippling influenza epidemic of 1919.
SOURCES
Lithgow Primary School Centenary Committee, 1875-1975 : Lithgow P.S. : centenary, 1975
The story of Lithgow / written by the pupils of the Lithgow Public School in collaboration with the executive officers of the Lithgow District Historical Society, 1947
Home | About | Chronological List | Contact Email